I asked around on Instagram and Facebook to see what you wanted to read on the blog this weekend. I didn't have anything lined up, so your ideas came at just the right time. And as it happens, the ones I went for were completely unrelated to cosmetics, so this weekend I'm giving my brain a break by not writing a single word about skin care!
You asked for a tour of my home, but I felt I didn't have anything interesting to show you. The place is only half-done; I can't really say I've tried to do anything about it since last summer (which is when I moved in). The beautiful calendar from Musla kick-started my inspiration, however, and I've now been looking about me, considering what I might do.
My home is beautiful and full of light; it has a really good atmosphere. The kitchen is straight from the 80's and makes me think of Carrie Bradshaw's bachelorette pad. The place is tidy and spacious, but still a bit haphazard, which suits me really well right now. I don't want to decorate the place and buy things just to buy them – I want things to flow at their own pace, and to use my intuition. It'll be interesting to see if I'll get this place sorted out before it's time to move again.
I ended up photographing my home in its current state, and doing that, I realized that all my possessions have a story behind them, a reason for why they've ended up in my home. Clutter gives me anxiety, and I don't really buy things on the spur of the moment. Hence, today's requested post is about my home and my favorite belongings.
I love glass and crystal. The clear chunk of glass in the front is an ancient tea light holder from Iittala, given to me for by two of my friends for my thirtieth birthday. The small vase is a recent find from Proloque shop, down the street from where I live – it was the first thing I laid eyes on when I stepped in. I love bottles and vases with just a single flower standing in them.
A bit of advertisement: the BEST FLORIST in Rööperi is Piian kukka on Pursimiehenkatu. Oh, the abundance, the inspiration, and flower-madness!
I've talked about Musla's calendar already, but it's beautiful enough that I just might show you each month's page, as it changes. February's painting is of an octopus that looks like an elephant – can you see it?
I also love notebooks. I'm so glad I no longer have to travel all the way to Paris for Christian Lacroix – these gorgeous notebooks are now available right next door from me. The black one might just be the prettiest I've ever owned, and its pages have begun to fill with plans for the year's most important thing, which I will soon be telling you more about.
Under the black notebook is an adorable booklet by Liberty, containing beautiful ornate post-its and sticky notes. So relieved to be done with those neon colored stumps! This was also found at Proloque.
Next up is something that has been giving me an incredible sense of well-being these past few days. You know those states or feelings that can't be described in words, no matter how good you usually are with them? Anyway, this thing I'm talking about is Sara Karlsson's and Pia Sievinen's recently published book Hyvän Elämän Anatomia ("The Anatomy of a Good Life"; available, once more, at Proloque).
When I first held the book in my hand, I was filled with a sense of Well-Being. The book felt good. It looks beautiful. It's the perfect shape and size. It opens nicely and is well made. But the most important thing, the actual content, is something you need to experience for yourselves. The photos are beautiful. The layout gives me palpitations. And reading it feels good. This is what the writers were after, of course, and they have succeeded perfectly. If I could only have one book in my bookcase, this would be it.
Also, I am making peach bellinis for my next weekend breakfast. The recipe is in the book. The name, if you didn't catch it, is Hyvän elämän anatomia.
Onto the bedroom. On my window-sill I have an ever-growing collection of rocks. I find them beautiful, and could easily go on a spur-of-the-moment rock-shopping spree. Most of the time, I'll visit Somsola when I feel like I need a specific rock. It usually ends up being the first one I lay eyes on. Some people are very sensitive to the healing energies of rocks, others think it's all nonsense. I don't care. I love their beauty, and have been able to sense the energies of two rocks, so far.
The bookshelf was inherited from my grandmother, and it is probably my favorite piece of furniture. It looks a bit empty, though, as I'm not very good at filling or styling pieces like it, and I try to avoid amassing unnecessary trinkets. Maybe a small plant would do, one that doesn't fare well in direct sunlight? The top two shelves have begun to fill up with books, and I don't really want to expand my collection too much. Time for a small book inventory, I think.
There is an unforgettable story that goes with the jewelry box, which was given to me by my parents. I was four or five years old and we were on a trip somewhere in Finland for the summer holidays. My parents had promised to buy me a jewelry box. Naturally, I wanted the kind of ballerina box my cousin, whom you might've seen on the blog, had. My father said that a ballerina box might not survive the trip home, that the figurine might fall of. I bought the lie and, somewhat reluctantly, accepted the bird-embossed black box, instead. I later fell in love with its canary yellow satin lining, and couldn't even muster up annoyance when, years later, the lie was exposed.
Now, as an adult, with the box still decorating my bookshelf, I'm actually grateful for that little white lie. A ballerina box would likely have broken twenty years ago.
These little ornament boxes were the only Iittala items I kept after selling the old flat. Not a single Kivi or Aalto candle holder will cross my threshold. Both boxes were given to me as a present. The larger one was a graduation present from an ex, and is currently housing my lip balm collection – I'll be sharing the recipe for the one on the far right. The cameo pot is a Christmas gift from a dear friend.
I love the scent of Neal's Yard Remedies' room spray, and I usually finish my house-cleaning by spritzing it about. The scented candles and diffusers are from the same set, and can be found at Jolie.
Sprayable room scents are great, and can also be used to make clean sheets extra fragrant. Otherwise I usually stick to burning essential oils in a burner from Indiska, which sits on top of a sideboard inherited from my grandmother. The sideboard could also use a few ornaments or maybe plants, but only after I've put up the photograph by Mikko Rasila, that he gave me for my birthday.
This gorgeous writing desk was meant to be my work desk. And it was, for a while. Then it was taken over by ingredient packages from Aroma Zone, and now there's little space for anything else. It's a good thing it has a lid, because there's a lot of jars in there. You can also glimpse my other favorite piece of furniture, a Normann Copenhagen Knot chair, given to me by my parents for Christmas. I don't know about you, but the chair made me think of Coco Chanel. I'm sure the mademoiselle would have gladly spent an hour or two lounging about in it, cigarette in one hand, a glass of port in the other.
On the bed we have Jeri the dog. I've had him since I was one. He is an extremely well-petted and patched individual. Please note the ginger coated king of the mohair blanket sleeping next to the mohair blanket. The mohair blanket and the cotton counterpane were given to me by Balmuir last summer. In the background is Romppu's own bed, which he actually deigns to sleep in during the night. Close-up is one of my most important work tools: a studio light.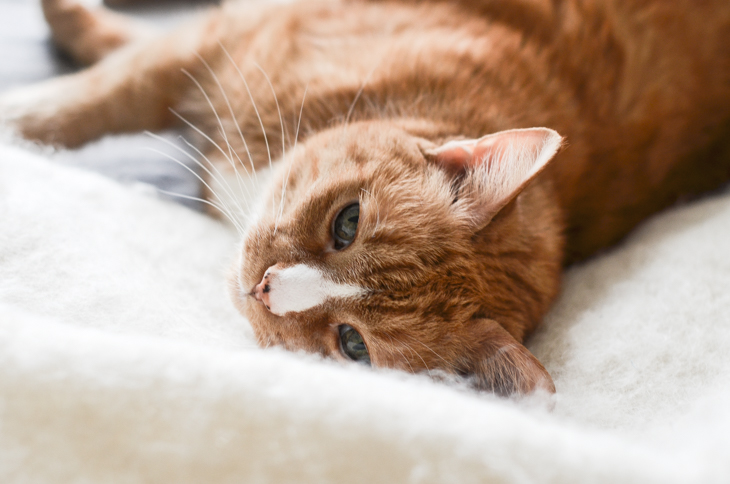 On my window-sill/bedside table is Cameron Diaz's The Body Book. This was definitely an impulse buy. I was buying a cookbook by another film star, when I clapped eyes on this. Cameron is a gorgeous woman, and I figured the book might provide inspiration for one of my own projects. But that feeling might just have been due to Cameron herself: the book hasn't really given me any new insights as of yet. The Orange and Ginger shea butter from Moksa is divine, however, and sits on my bedside table because I like to use it on my feet at night. I bought the jar at PÜR, next door to Tavastia.
I don't believe in letting beautiful clothes languish at the back of your closet. That way you only forget about the lovely things you already have, and end up making impulse purchases. Most of these clothes were bought from Sofinah, with a few from Samuji, and one from IvanaHelsinki.
I'm fantasizing about summer, about getting to prance down the street in Samuji's massive sun hat. Actually, I might not be prancing, but rather lying under a lemon tree, sipping limoncello. A house in Italy is a long-time dream of mine.
Last, but certainly not least, are the riding boots and jodhpurs standing in the foyer, waiting for me to start riding again. The time hasn't been right for that, yet, but the boots remind me of my love every day.
That concludes the little tour of my home. If you have any brilliant décor ideas, let me hear them. Apart from the calendar by Musla, my walls are still completely bare, and the only overhead light I have is in the kitchen. I'm the world's pickiest lamp-buyer. Overhead lights are too much, unless they're halogen ones, but as I can't renovate the place to have halogens installed, I'll need some other bright ideas. I do love smaller lamps, however, and could see myself putting a few of them in the same space to provide light. I've been dreaming of a little reading corner in my bedroom, with a lovely armchair and a floor lamp; we'll see if I get around to it before the next move.
There's another requested post coming up this weekend, one that's not home-related. Stay tuned!
Photos Katja Kokko
Translation Katja Nikula