Katja Kokko is a specialist of genuine beauty and a luminous influencer of holistic well-being. She is known as one of the most sought-after pioneers in the Finnish natural cosmetics scene.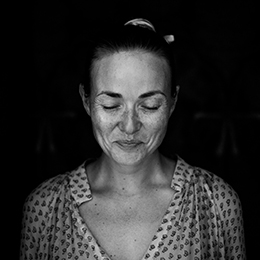 beauty therapist | make-up artist | organic cosmetic formulator | yoga teacher | author
Bio
Katja has been a source of inspiration for many women during her two-decade long career in genuine beauty and overall well-being. She is a professional beauty therapist, make-up artist, organic cosmetic formulator (Advanced Diploma in Organic Cosmetic Science and Certificate in Organic Anti-aging Skincare, Formula Botanica), facial reflexology practitioner (Dien Chan Zone®, International Academy of Italian Facial Reflexology), trained in facial gua sha (Gua Sha fusion, Cecily Braden, Gua Sha – The Level 1 Foundation Program, Clive Witham) and connective tissue manipulation (Anne Bramham, ASTECC). Katja is also an ashtanga and yin yoga teacher (John Scott Yoga, RYT200, Sandra Howling).
Katja's broad understanding of inner and outer beauty and her vision of phenomenalizing organic skincare has also sprouted a company in organic skincare and sustainable beauty, Jolie Organic Health & Beauty, a modern lifestyle brand that has grown into an international frontrunner.
In her first book (Aidosti kaunis, 2015 / Genuine Beauty, 2017) Katja brings her reader to the source of genuine beauty – the one that can be found when listening to ourselves and appreciating our uniqueness. Katja knows the trends of skincare business like the back of her hands. Though she has the ability to recognize the next big things, she works as a dedicated spokeswoman for a sustainable beauty philosophy. Genuine beauty is all about appreciating and treating the environment with love and care, opening both the mind and body, and letting the wild natural beauty inside every woman to shine and blossom. Katja's second book Kuulaan kaunis was published in February 2019 (Gummerus). Kuulaan kaunis is an in-depth guide to Korean skincare philosophy and beauty traditions.
Genuine beauty is all about appreciating and treating the environment with love and care, opening both the mind and body.
Katja is currently working with her Yin Your Skin® concept which combines skincare, gua sha and yin yoga with sound healing, and studying yoga, holistic skincare methods and Reiki. Known as an enormous hall of records of all things genuine and beautiful, Katja's website keeps charming new readers. The site serves as an uncompromising, passionate and, if necessary, a critical source of information – with a hint of entertainment and sparkle.
Genuine beauty – for companies
My website is the most popular and well acclaimed media focusing on natural cosmetics and holistic skincare in Finland. I've been working as an ambassador of genuine beauty for two decades. Are we on the same mission? I'd love to strengthen your team.
Work with me
I offer content collaboration and consulting services for companies in both brand and product development. I have a solid experience in creating brand identity, marketing and formulation of natural cosmetics.
I know the global beauty industry like my own pockets. Thanks to my long experience and fine-tuned intuition, I'm always a couple steps ahead of the current trends. I'm excited about innovative concepts, pioneers and soulful brands with a story.

Find my bio here.
Contact me: info(at)katjakokko.com