Someone commented on the recent post about Madara's new products, saying that the brand is a skin care staple, and that there's always a Madara bottle lying around in the bathroom cabinet. I agree: Madara is to me now what Nivea used to be back in the day – so obvious I don't even think about it. That's where the similarities end, though. When I got wind that Finland's thriftiest Madara prices had been reduced by 20%, I decided to compile a list of the brand's best products; luxury items with amazing potency.
I received a surprise package from a PR firm called Sugar earlier this fall. The courier was holding a picnic basket containing the rowan scented Pihlaja body butter designed by Noora Shingler for Madara; a piece of rowan and sea buckthorn cake from raw baker Maria Lönnqvist; and a rowan tree branch heavy with berries. I scarfed the cake, fairly vibrating with giddiness, and before I knew it, I had devoured the body butter as well. It is definitely one of my favorite body butters, especially in these dry and dusty times. I've dubbed it the "fox candy sauce" (after an old Finnish rowan-flavored candy, with a stylized fox on the packaging), because it looks and smells like dessert pudding. As luck would have it, the Madara's importer gifted me with another fox candy jar, so I could show it to you, as well.
The product contains cacao butter, which is super food for the skin, and therefore perfect for any skin care product. Using rowan in skin care is pure genious – Kudos to Noora for thinking of it! Much like Nivea's cream in the blue tin, this vegan body butter can be used by the whole family.
Noora's Pihlaja products have become quite the hit in Finland. Before the body butter there was the Pihlaja Daily Defence cream, which has been especially popular with atopy sufferers. The DD cream in the range is a multi-purpose one; I use it on my hands, while a friend's mother favors it as a moisturizer. Either way, it softening and repairing, protecting our skin from extreme weather conditions, like the hellish November storm winds, freezing horizontal rain, body-numbing minus degrees, and what have you. The product contains a good amount of shea butter, macadamia nut oil, and rowan berry oil extract, as well as pure rowan berry extract (sans oil).
In my newest article for Ellit, I talk about the crème de la crème of challenging natural cosmetics. One of these is deodorant, and I have two favorites: Acorelle's rose deodorant, and Madara's herb one. The Madara deodorant is also popular with men – including my father, who swears by it. I tried the product years ago, but was dissuaded by the burning sensation it left on my skin. This past summer I decided to give it another shot and, to my delight, suffered no adverse reaction this time! Currently, I switch back and forth between these two favorites. Since I began using natural deodorants, I don't sweat as much or as fragrantly as I used to, and can sometimes forget to wear it. And when I do remember, the product keeps me fresh throughout the day.
Despite being based on nourishing seed oils, I was fairly unimpressed by the consistencies of Madara's new Superseed face oils when I last wrote about them. However, since temperatures have begun dropping, I've found a very good use for the Radiant Energy oil. Since I like light and very hydrating fluids rather than heavy and rich creams, a light oil applied between my moisturizer and makeup in the morning is just what I need. This way the skin stays soft and supple, making your makeup look better when the skin underneath is properly moisturized. As Radiant Energy is a dry oil, there's no risk of it pushing through the makeup. This refreshing citrus scented oil is suited for normal and combination skin; for mature skin I would recommend Age Recovery (I'm part of that club now), and Soothing Hydration for dry skin.
Since we're on the topic of anti-age, I should mention that Madara's Time Miracle products are among the best when it comes to affordable anti-age skin care. They have zero water content, which increases their potency exponentially. Instead of water, they contain Finnish birch sap, which is not only moisturizing, but high in antioxidants. The ingredients for the base of the cream alone are outstanding, and perfect for skin care.
I've always loved the light but moisturizing consistency of the Time Miracle day cream; instead of thick and heavy oils, the cream contains quickly absorbed jojoba oil. All of the Time Miracle products also contain Madara's Galium7 complex – a combination of seven plants, including barley sprouts, red clover, sea buckthorn, blueberry, field horsetail, lady's mantle and hops. This complex, created by Madara, has been researched in cooperation with the University of Latvia, and the results are very impressive indeed.
Other goodies from the Time Miracle line are the serum and eye cream. With the help of brilliant skin care technology, this serum masterfully replicates the effects of synthetic and silicone based serums. With light reflecting pigments to brighten dark under-eyes, the eye cream offers amazing value for money.
As the icing on the cake, here is a tip for dull, blemished, oily, and porous skin: the prices Madara's already affordable AHA-peel, and Ultra Purifying Mud Mask have been further reduced at Biodelly by 20%, to just €18 per product. I've said before: this combo will rock your world.
What are your favorite products from Madara?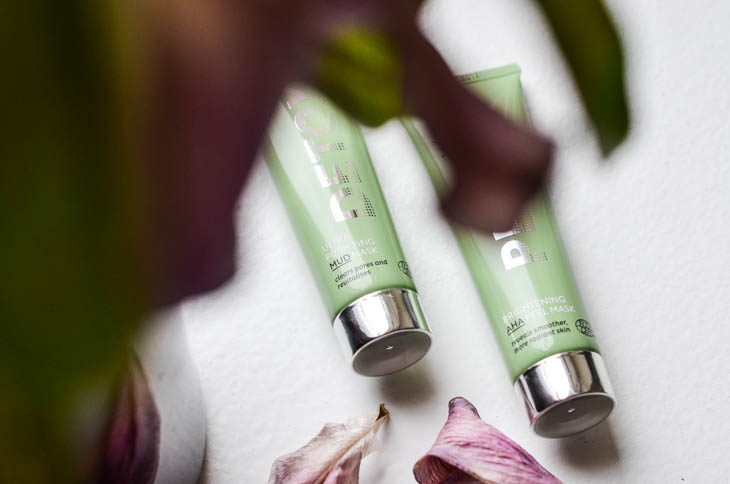 Post contains affiliate links
Products provided for testing by the importer
Photos Katja Kokko
Translation Katja Nikula